Sembilan Matahari
[Indonesia]
スンビラン・マタハリ(インドネシア)
2007年設立。インドネシア・西ジャワ州の州都バンドンを拠点とする。
チームにはアニメーター、VFXアーティスト、建築家、プログラマー、科学者、エンジニア、ミュージシャン、サウンドデザイナー、イラストレーター、グラフィックおよびUIデザイナー、作家、アートディレクター、映画製作者などが所属し、多くの専門分野をカバーしている。
臨場感にあふれ、魅力的でインタラクティブなオーディオビジュアルとマルチメディア作品を制作。

様々なバックグラウンドを持った世界中の素晴らしい才能と協働し、大胆で革新的、刺激的な作品で、国際的な受賞歴も重ねている。

ジャカルタ国際映画祭(2019)では、映画"Cin(T)a" が脚本部門でCitra賞及び観客賞を受賞。
逗子メディアアートフェスティバル(神奈川県,2012)ではグランプリを受賞。

またインスタレーション作品「Constellation Neverland」は、ICAD展覧会(ジャカルタ,2011)、ARTJOG(ジャカルタ,2012)、マッピングフェスティバル(スイス,2013)、プロジェクションマッピングの世界(香川県,2013)、国立台湾美術館テクノアート展(台湾,2014)で開催された。

2014年にモスクワで開催されたコンペティション「Circle of Lights」では外国人初の受賞を飾り、2017年はドイツ、ベルリンライトフェスティバルにおいて入賞・オーディエンス賞を獲得。
---
カラーズクリエーション代表 石多未知行との対談記事が公開中。
CREATOR's INTERVIEW #03「初代グランプリから10年、インドネシアが生んだ国際的クリエイター集団」
ぜひご一読ください。
Sembilan Matahari is a cross-disciplined studio founded back in 2007. Based in Bandung, the capital city of West Java, where many creative industry enthusiasts have successfully arise from Indonesia. The team of Sembilan Matahari consists of animators, VFX artists, architects, programmers, scientists, engineers, musicians, sound designer, illustrators, graphic and user interface designers, writer, art director and filmmakers.
Sembilan Matahari's focus and main interest lay on cross disciplines designs, films and creative coding expertise. Their works cover audiovisual and multimedia creation that is immersively attractive, interactive and spectacular. Blending the boundaries through the eyes of design, Sembilan Matahari strongly believes changing the way they think will give immediate results of innovative creation. Designed Film helps clients to make the impossible become possible.
Sembilan Matahari collaborates with amazing talents around the globe coming from various backgrounds to create bold, innovative, experiential and inspiring works that made up not only the commercial portfolio but also their international award-winning portfolio.
Sembilan Matahari has achieved various national awards for creative ideas that are often out of the box. Among Sembilan Matahari popular artworks are video mapping project of Fatahillah Museum in Jakarta (2010), Video Mapping of Gedung Sate in Bandung (2011-2015), video mapping project of Candi Prambanan (2016), and also a movie "Cin(T)a" (2009) which recieved Piala Citra for Best Original Script category and Indonesian Viewer Favorite Film in JIFFEST 2009.
In 2012, Sembilan Matahari successfully seized the Grand Prize Winner (1st winner) Projection Mapping Competition in Zushi Media Art Festival, Japan. Sembilan Matahari's installation artwork "Constellation Neverland" was chosen to be showcased in ICAD Exhibition 2011 (Indonesia Contemporary Art & Design) Jakarta, Artjog 2012 Yogyakarta, Mapping Festival 2013 Geneva-Switzerland, World of Projection Mapping 2013 Kagawa-Japan, and Techno Art Exhibition 2014 Museum of Fine Arts Taiwan.
In addition, by the end of 2014, Sembilan Matahari's video mapping artwork "Kriyasana" turned out as the first winner of international video mapping competition among hundreds of global participants, ArtVision Competition – Circle of Lights, which was the biggest Art Light and Multimedia Festival that held in Moscow, Russia. Continuing from Russia, German also held The Berlin Light Festival in 2017 in which Sembilan Matahari also obtained the first winner and viewers favourite award in its international video mapping artwork competition.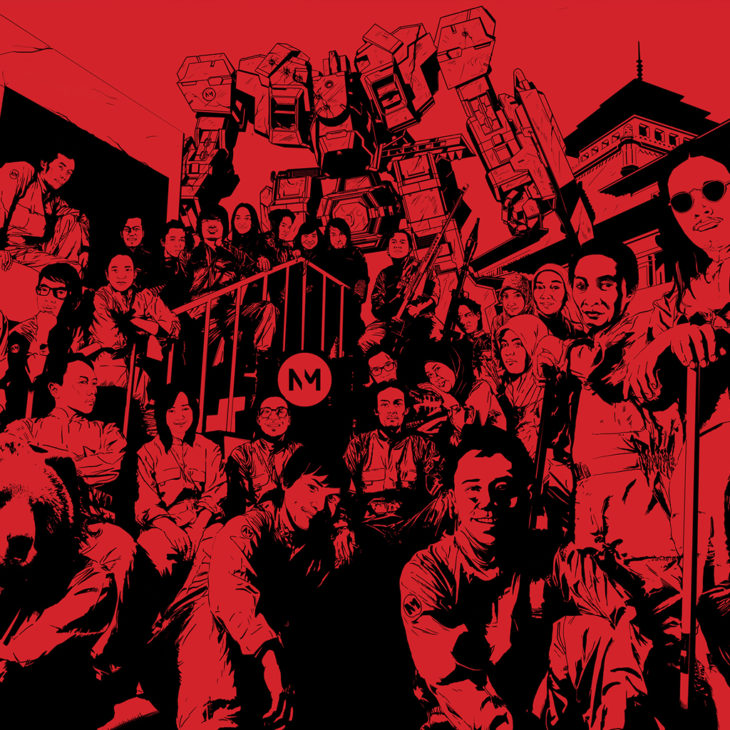 AWARDS
Mapping Competition
2017 Berlin Festival of Lights Champhionship ( Berliner Dom, Germany ) : 1st Place
2015 The JCI Ten Outstanding Young Person of Indonesia, Cultural Achievement Category ( Jakarta, Indonesia )
2014 Bandung Creative Awards, Creative Technology Category ( Bandung, Indonesia )
2014  International Light Festival, Video Mapping Classic Category ( Moscow, Russia ) : 1st Winner, "Kriyasana"
2014 Non-Conventional Media Category Ambient/Guerilla/Live Theather, Citra Pariwara Awards ( Jakarta, Indonesia ) : Bronze Prize ,"Naaradewa"
2012 Zushi Media Art Festival, 1minute Projection Mapping Competition  ( Zushi, Japan ) : Grand Prize
2010 Telkom Indigo Awards ( Jakarta, Indonesia ) : Young Inspiring Creator, "Special Mention"
2009 Festival Film Indonesia ( Jakarta, Indonesia ) : "Cin(T)a" Citra Trophy for The Category of Best Script
2009 Most Favourite Indonesia Feature Film ( Jakarta, Indonesia ) : "Cin(T)a" Audience Awards
Exhibition
Their Project "Constellation Neverland"
2014 Wonder of Fantasy Techno Art Exhibition ( Taichung, Taiwan ) : Selected Artwork
2013 Mapping Festival ( Geneva, Switzerland ) : Selected Artwork
World of Projection Mapping ( Japan )
ArtBali ( Indonesia )
ArtJog ( Indonesia )
Wave of Tomorrow ( Indonesia )
Digital Graffiti Festival ( Florida, US ) : To be featured
OTHERS