DecideKit
[Thailand]
ディサイドキット(タイ)
モーショングラフィックデザインの分野で活動。
2006年、一人の女性によって設立。
彼女はニューヨークでモーションデザイナーの職を打診されるも、自国タイに戻り自分のスキルと経験を活かせるビジネスを立ち上げた。
会社は少数精鋭で、友情に満ちた小さな家族のようなチームを理想としている。
社名のDecideKitは、クライアントの問題をプロフェッショナルに「DECIDE(決定)」する手伝いをするために「DESIGN」を「KIT(道具)」として使うという意味が込められている。
また、問題解決の「DECISIVE TOOL(決定的なツール)」になるという意味も含む。
ビジネスにおいてはクライアントからのデータを充分に収集し、彼女ら独自の制作スタイルを活かすことで、様々なタイプの観客へメッセージを発信する最良の方法を追求。
繊細で高品質な作品制作は、クライアントから高い信頼を獲得している。
DECIDEKIT is very passionate in motion graphic design area. They are also confident in the word of "DESIGN", is the word that they used as a "KIT" in order to help their clients "DECIDE" to make a choice in solving clients' problems in the beautiful and professional ways. In the other hand, clients can see them as DECISIVE TOOL for the their problem.
Their projects and works are based on preferring ART style and collecting DATA from their clients, they find the best ways and solutions to delivery the message to various type of audiences.
DECIDEKIT was found in 2006 by a woman, who turned down a job opportunity to be a motion designer in NEWYORK, she decided to bring back her skills and experiences, then came back to her hometown and starting her own business. Until today, the company grow so strong and sustain. Their works are unique and distinct from other company. They also gain high trust from the clients.
14 years proved that the company doesn't need to be a big group of people. They want their company to be a small house that contain full of friendship, motivation and teamwork. They are deeply in detail of assigned project which contain a high quality of "DESIGN" in their standard that they always believe.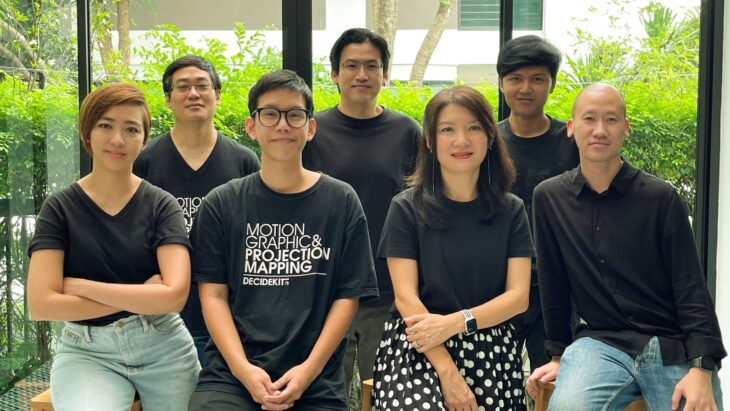 AWARDS
2022 1minute Projection Mapping in Odawara Castle ( Tokyo, Japan ) : 2nd Prize / TOKYO LIGHTS Prize
2019 1minute Projection Mapping in Odawara Castle ( Odawara, Japan ) : 2nd Prize
2018 1minute Projection Mapping in Miyazaki ( Miyazaki, Japan ) : Miyazaki Prefectural Governer Prize
2018 1minute Projection Mapping in Huis Ten Bosch ( Nagasaki, Japan ) : Audience Prize
OTHERS