AVA Animation & Visual Arts
[Canada]
アヴァ・アニメーション&ビジュアルアーツ(カナダ)
2010年設立。
優れた映像体験の制作を専門とし、国際的に活躍するアニメーションスタジオ。
カナダのトロントを拠点に、国際観光協会、広告代理店、テーマパーク、ライトフェスティバル、さまざまなイベントをクライアントに擁する。
リサーチ、企画、デザイン、アニメーション、映像制作、仮設および常設作品のコーディネートまで、クリエイティブとテクニカル双方の知識を活かした総合プロダクションとして活動してきた。
「体験と視覚を通じて人々に喜びを届けること」を信条とする。
アートが空間を変え、経済を刺激することができるという信念のもと、アートで地域社会を巻き込み、人々が喜びを感じられる空間を提供し続けている。

光と色で日常の喧噪・孤独を打ち破り、見る者を非日常へと誘い、驚きとつながりの感覚を呼び起こすという想いを込め、作品制作にあたっている。
AVA Animation and Visual Arts is an internationally awarded animation studio that specializes in creating extraordinary visual experience solutions for brands, events and government agencies who want to bring joy and engage communities through art, light, technology, creativity and storytelling.
Ever since they started in 2010, their goal has been to deliver joy through experiences and visual journeys. They believe art can transform spaces and reactivate economies, so they want to engage communities with art, providing safe public experiences and spaces where people can feel represented.
They want to break through the noise and isolation of everyday life using light and colour to transport people to places never seen before, sparking a sense of wonder and connection.
Their expertise covers both the creative and technical aspects: their services range from research, planning, projection calculations, design, content animation, production, to temporary and permanent installations.
Their studio is now based in Toronto and their clients include international tourism associations, ad agencies, theme parks, light festivals, and private events.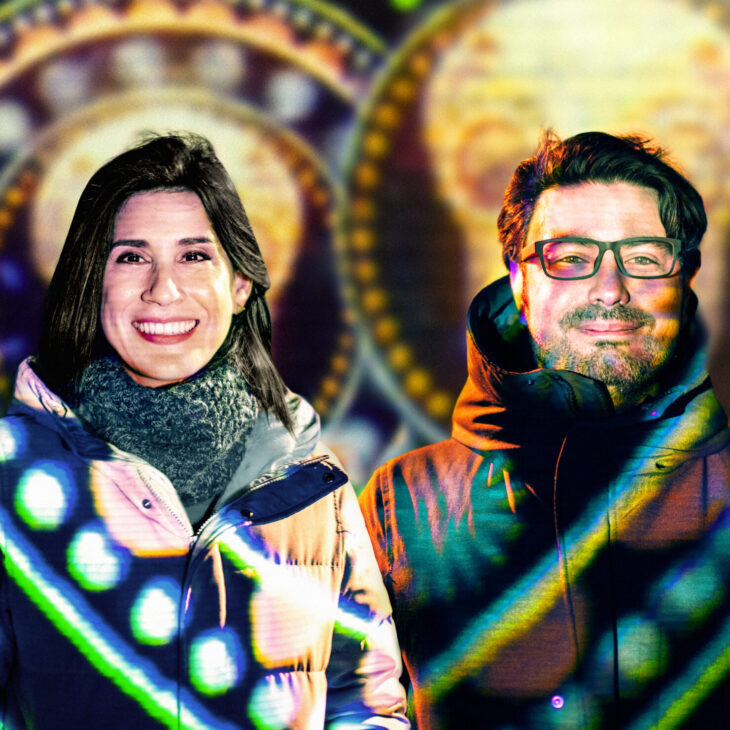 AWARDS
2019 Malaga Christmas Illuminations ( Alcazaba de Málaga, Spain ) : Headlining Artist
2019 1minute Projection Mapping in Odawara Castle ( Odawara Castle, Japan ) : Jury's Prize
2019 Light Move Festival ( Lodz Opera House, Poland ) : Headlining Artist
2019 1minute Projection Mapping in Miyazaki ( Miyazaki Prefectural Art Museum, Japan ) : Special Prize
2018 Salamanca Light Festival "Jardin de Cristal" ( Salamanca, Spain ) : Official Selection
2018 Burj Khalifa "Luna" LED Mapping ( Dubai, UAE ) : Official Selection
2017 LunaFete New Orleans Light Festival, "Viva Nola" Videomapping ( Gallier Hall, U.S.A. ) : Headlining Artist
2017 Küzefest Festival International VideoMapping Competition ( Santiago, Chile ) : Jury / Guest Artist
2017 1minute Projection Mapping in Huis Ten Bosch ( Nagasaki, Japan ) : 2nd Place
2017 Latin American Design Awards, Animation Category ( Lima, Perú ) : 2nd Place
2016 Projection Mapping Competition Niigata MINATOPIKA ( Niigata, Japan ) : 3rd Place
2016 Kyoto Okazaki Mapping Festival, Okazakirama Video Mapping ( Kyoto, Japan ) : 2nd Place
2015 Projection Mapping Competition Niigata MINATOPIKA ( Niigata, Japan ) : 2nd Place
2015 iMAPP Bucharest Projection Mapping Competition ( Bucarest, Romania ) : Official Selection
2014-2015 Amsterdam Light Festival, Video Mapping ( Amsterdam, Netherlands ) : 1st Place
2014 Projection Mapping Competition Zushi Media Arts ( Zushi, Japan ) : Official Selection
2014 Circle of Light Festival – Videomapping "LUZ" ( Moscow, Russia ) : 3rd Place
OTHERS
Interviews : 
Seneca College of Applied Arts and Technology, Toronto:
Creator profile Live Design Magazine:
Audiovisual City Interview: